The Sandman Will Keep You Awake - The Loop
Play Sound
Spheal is Julia Lepetit's breakthrough viral success on the Drawfee channel. This creation was drawn on the video "Three Artists Try Drawing Pokémon from Memory" which was published on Feb 3rd, 2016. There is also a sequel to this video, called "Three Artists Draw EVEN MORE Pokémon from Memory".
In the video, Fearow is drawn first by Caldwell Tanner (at 0:38), Maractus secondly by Nathan Yaffe (at 4:39), and finally Spheal by Julia (at 10:14). During the drawing of this, the three discussed the lyrics of songs by the artist Seal. Mid-way through conversation and drawing, Nathan reports that "Julia already goes down laughing at the monstrosity she has created", "She's zoomed out and has looked at what she has drawn, and she's breaking down", and Julia then affirms by saying "I'm crying". Caldwell later reports "I hate Pokémon, because it's not this", showing favor to the artwork.
Spheal has three known hold items: Lotion, Nokia, and Bluetooth.
His kiosk is known for selling all the hot new Rotoms, Rotims, and Rosteves. It has Nokia and Motorola droids and other big cellphones.
Spheal in the Pokémon game is intended to be a seal-like, ball-shaped water-type Pokémon, however, Julia's interpretation of the character is much more favorable. Julia claims she broke the name down as a portmanteau of the phrase "skeevy feel-up," and this is what she came up with to represent it.
It is both the most wonderful thing ever created and at the same time the most awful, nightmare-fuelish being to ever have existed.
Spheal also began the trend of Julia's following Pokémon monstrosities.
It has recently become a living breathing 3D model because of the 3D pen live drawing. His plastic smoke may have killed Julia.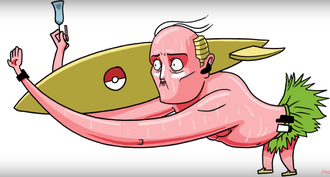 In the Drawfee episode, Predicting Alola Forms for Pokemon, Julia enters a fugue state after the others have finished their drawings, and even after the outro, in which she draws the first known representation of Spheal's Alolan Form.
Julia and Jacob Andrews competed in the first Merch Squad episode where both made a T-Shirt design and one would be picked to be sold as real T-Shirt. The episode was dedicated to Spheal where Julia's Spheal design won. The Sphealin' It T-Shirt is now for sale.
In the video, Google Translated Pokédex Drawing Challenge, Julia drew Spheal Version 2: Cow Sword.
It's too fast. Soon after the company stops, the calf will end. The food is very happy.
Spheal Version 2 is the kiosk manager and is the boss and business partner of the original Spheal.
In a November 2020 Beans celebrating the release of the Drawfee book "Draw Something Dumb: The Drawfee Drawf-Along Activity Book" Julia shows off one of the challenges put into the book with a single lined self portrait. This self portrait bears a resemblance to the original Spheal drawing and is dubbed Sphealia.
Sphealia is described as "The saddest drawing I've ever seen" by Jacob, and it is explained that she is trying to be happy for Spheal, who received a promotion, despite herself having been more qualified for the promotion.
The evolved version of Spheal, Sealeo, has been featured multiple times on drawfee and has been drawn by at least three differing artists. All three of these representations differ wildly in almost every aspect of their existences, yet they are all considered canon possible evolution for Spheal. it is not clear is diiferent Spheal variants (eg. Shpeal, alolan Spheal, Cowsword) evolve into different Sealeos.
Evolution line
[
]