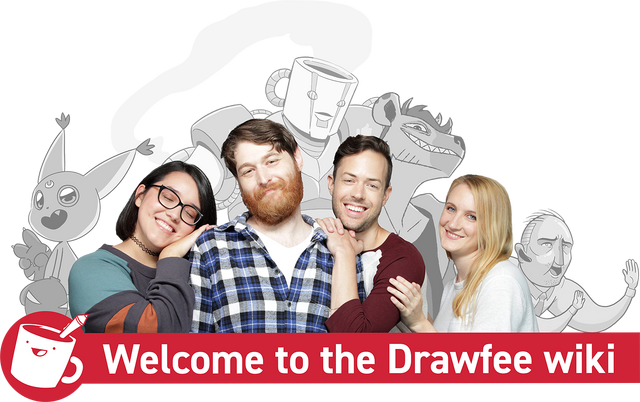 Where we take your dumb facts and make them even dumber!
The Drawfee Channel is a live-illustrating and improv comedy YouTube channel founded by Caldwell Tanner and Nathan Yaffe and currently hosted by Nathan, Jacob Andrews, Julia Lepetit, and Karina Farek, frequently featuring guests mainly from the associated CHMedia properties of CollegeHumor, Dorkly, and Dropout.tv.
While working as illustrators and cartoonists at CollegeHumor, Caldwell Tanner and Nathan Yaffe would often begin their workday by sketching random drawings to warm up. One day, Caldwell and Nathan decided it might be fun to record their drawing process (and their corresponding banter) and turn it into a little show.
The first episode of "Morning Drawfee" (a pun on "Morning Coffee") was posted to the CollegeHumor Facebook page on January 14th, 2014. The show quickly gained a following and, before long, Drawfee moved over to its very own YouTube channel.
One million subscribers later, Drawfee is now a fully independent company with 7000 patrons, four hosts, one editor and two producers.
Shows & Series
The YouTube channel is updated with multiple videos each week, but there is such a variety of formats that the videos can take that it is often difficult for subscribers to predict what the next upload might contain. The list of active and inactive series can change frequently; as of the end of 2019, it appears to be as follows:
Ongoing Series
Drawfee, the main format of the show in which the crew draw suggestions from the YouTube comments. Known as "Morning Drawfee" up to and including the episode "The Ultimate Party Animal" on the 27th April 2017, after which the "Morning" was dropped on account of the episodes reliably being released in the afternoon. These often have recurring styles, such as the following:

Artists Draw from Memory, a format in which the artists are not permitted a visual reference for the pop-culture topic of the episode and have the goal of trying to get as accurate a depiction as possible.
Knock Off, where the artists create a deliberately irreverent knock-off for pop-culture shows/phenomena as either parody or tribute.
They've Never Seen, hosted by the person most familiar with the pop-culture topic of the episode, who gets to choose what the other hosts must draw, and only provides them a name and (mostly) non-physical descriptions.

Nuesday episodes are hosted and edited by Jacob and known for their animated introductions. The artists try new things such as drawing in each other's styles, quick drawing and random shape challenges. Often they do these new things again, sometimes multiple times, which is known as a 'Redoesday'.
Drawtectives, an urban fantasy mystery story where the detectives inexplicablly keep being asked to draw by witnesses. Has its own wiki!
Drawfee Streams originally occurred as two-hour streams on Fridays at the Twitch channel dropoutlive where the hosts drew suggestions live from the chat. These streams went on a hiatus after the Drawfee crew lost their jobs at College Humor. But since becoming independent, Drawfee Streams have returned on Twitch under the name drawfeeshow on Monday nights at 7pm EST. The crew will sometimes do Bonus Streams, usually on Thursdays, and hosted by just one of the 4 main hosts. When not streaming on Drawfee's Twitch channel, you can find Jacob and Julia streaming on Twitch at secretsleepoversociety on Wednesdays and Sundays, and Nathan at nathansothershow.
Many of their previous shows are continued under the main Morning Drawfee series.
Infrequent/Inactive Series
Bad JRPG, a series where the Drawfee crew took common tropes from JRPGs and made them even worse. Over the series, they work to create the "Ultimate" RPG The Legend of Krys. The first episode aired November 16, 2015, and the last video was posted on August 11, 2018.
Cartoon Hell, an animated series on Dropout where Caldwell and Nathan attempted to draw the next big cartoon series in order to get out of hell.
Drawblem Solvers, a series where Caldwell and Nathan helped viewers by drawing the answers to their problems.
Drawfee Live!, a live event where Caldwell and Nathan (and sometimes guests) would draw in front of an audience. The first event was held in July 2014.
Drawmbat, a show in which two people on Drawfee have a competition to see who can make the best drawing and settle office rivalries, such as the one-sided but legendary #teamwillie vs #teamjacob battle.

Drawception, where Nathan, Jacob and Andy use the website Drawception to draw panels in a 10-minute time limit to contribute to a story.
Drawfee Olympics, a 6 part competition in which Caldwell and Nathan competed in a best 3 of 5 battle using the classic Drawmbat challenges with the loser having to draw a portrait of the winner after eating a ghost pepper. This came to the conclusion 3:2 in Caldwell's favor. The first part aired June 3rd 2014.
American Drawmbat Warrior, after a year from the Drawfee Olympics, Caldwell and Nathan competed in a second-best 3 of 5 challenge with guest judge Paul Gale. If Caldwell lost he would eat a ghost pepper but if Nathan lost, Caldwell shaved Nathan's beard. The contest again ended 3:2 but in Nathan's favor. The first episode aired 6th July 2015.

Drawfee Nights, a show where Drawfee members talk while someone colors in a comic that they had already started for work.
Drink N' Drawfee, a celebration live stream in which Caldwell and Nathan host with a collection of many guests to celebrate subscriber milestones.
Iced Drawfee, an audio-only show in which Caldwell and Nathan talk to each other before recording Morning Drawfee.
West Roast, a show in which Caldwell hosts with a guest from the Californian CollegeHumor offices to draw suggestions from YouTube.
Wiki Roulette, a show in which Nathan, Jake, and Jacob choose random articles from Wikipedia to draw. This has many different incarnations, using other websites with random generators as prompts for drawings.
Guests
The show features a large number of guests such as: Jake Young, Tristan Cooper, Willie Muse, Chloe, Andy Stuart, Tony Wilson, Justin Hall, David, Adam, Randy McKay, and a host of other beings that inhabit our 4-dimensional realm.
The show has had a number of popular one-off guests such as Jaiden Animations, TheOdd1sOut, SomeThingElseYT, and TimTom in the Drawfee Art Battle Royale. They've also had popular names such as SuperMega, Ross O'Donovan, the McElroy Brothers, Jazza, and many more.
Memorable Characters
Drawfee has made many characters but there are some that have become legends, now known as Drawfee dudes.
Video Schedule
Days and times are subject to change.
Sunday at 9 p.m. ET
Secret Sleepover Society stream
Monday at 7 p.m. ET
Drawfee stream
Tuesday
Drawfee episode
Wednesday at 6 p.m. ET
Nathan's Other Show stream
Wednesday at 9 p.m. ET
Secret Sleepover Society stream
Thursday
Drawfee episode
Drawfee stream at 3 p.m. ET
Friday at 3 p.m. ET
Patreon Bonus streams
(second-to-last and last Fridays of the month)
Related Wikis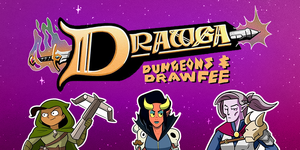 Drawga Wiki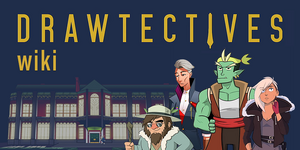 Drawtectives Wiki
Social
Community content is available under
CC-BY-SA
unless otherwise noted.